The key to success with our plants: WATER, just like anyone else's! Everyone says they know they have to water their plants, but regular watering (without overwatering) is truly the most important thing to do for your plants. A little fertilizer never hurts, either, especially for baskets.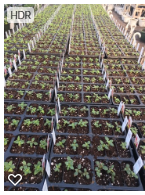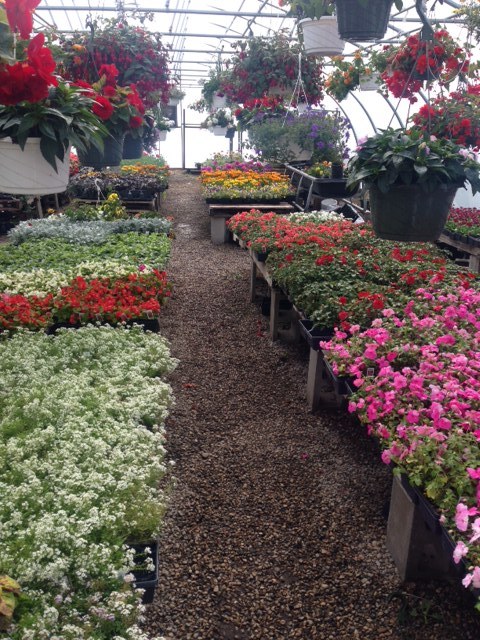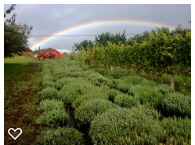 Greenhouses … We begin planting out greenhouses in March, including annuals and hanging baskets. We begin selling sometime in early-mid May, depending on the weather, and we have annuals available until early July. We grow our own flowers and do not use growth inhibitors, extra fertilizers, or other chemicals that make your pots or gardens a shock to the plants you purchase. Many of our customers are amazed at the difference in the plants they get from us compared to those from box stores!  

Mulch … Mulch sales begin in April --- late March if Mother Nature is feeling friendly! We have trees, shrubs, perennials, and mulch available from Mid-May until October, and all of these products come from right here in Michigan. PLEASE call or stop by to order mulch rather than emailing. 

Lavender Plants …We do sell lavender plants, as well, and have several varieties that are hardy to Michigan and the Midwest. We can help you choose the plants that are best for your location and space! Generally, plan on 3-4 feet in diameter per plant. (See our blog, "Caring for Your Lavender Plant", for more info on this topic.)
Why use mulch in your garden beds?
Water Retention in the soil. Mulch is a wonderful way to keep moisture in, especially around new plantings.

Weed Control. Using mulch can save LOTS of time spent weeding. Especially effective if you can get rid of all the weeds before application, of course, and if you apply it thickly enough. Generally, 2-3" is recommended.

Aesthetics. Mulch gives a finished look to your landscape that is hard to beat.

Nutrients. Certain types of mulch can add valuable nutrients to your soil (see below for more info).

Erosion Control. Certain mulches can be very helpful in holding a hill or under the eaves of your home or office. Some work better than others (see below).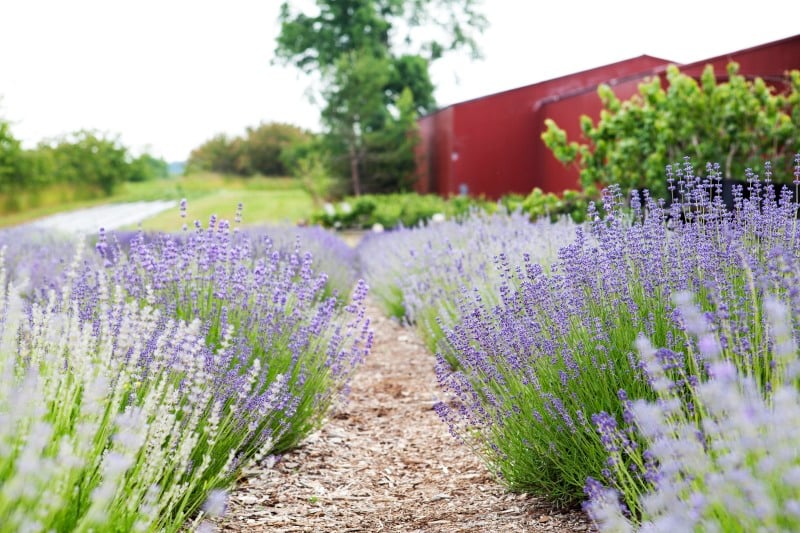 We offer three types of all-natural mulch:
Hardwood … $35 per yard. This is a blend of hardwood trees and double ground to be a relatively fine mulch in consistency. Hardwood mulch is best used in beds that are sandier or spots that you are trying to build nutrients in. It breaks down the fastest of the three and is best for erosion control. It can be used around most types of plants. 

Pine Bark … $40 per yard. Made literally from the bark of red pine trees, this mulch has a slight reddish tint to its primarily brown color. It is a little chunkier than hardwood and lasts longer. Pine bark holds its color the best of the three. Pine bark can be used around most types of plants.

Cedar … $40 per yard. Cedar is the chunkiest of the three mulches we offer. It lasts the longest of the three and can help deter bugs. It is also the most aromatic. It is the most acidic of the three, as well, and so is best used around plants like rhododendron, azaleas, and other acid-loving plants. Better to avoid it around annuals and some perennials for this reason.

​

How much mulch do you need?

​​
Generally, one yard of mulch will cover approximately 100 square feet (and area 10 x 10, for example). This varies depending on the type you have used in the past (cedar requires less top-dress each year, while hardwood usually is gone year to year) and whether you are starting fresh or top-dressing. Before you call or stop to order, it is helpful to know about how much ground you need to cover so we can help you get the right amount.
Where do we deliver and what's the minimum order?
* We only deliver on Old Mission Peninsula.
* The minimum order is 2 yards (we will charge you a $25 delivery fee)
* The minimum for free delivery is 3 yards, but we can bring up to 5 yards at a time.
* You can pick it up during normal business hours if you have a truck or trailer.
*If you only need a little bit, bring a storage tote, lawn and leaf bags, buckets, or whatever suitable container you have.

** NOTE: May is your busiest month for garden work; it is consequently our busiest month for delivering, so it is not uncommon for us to be backed up 5-7 days; please plan accordingly.